About Us
Until late 2012 there were two of us, working together as spiritual seekers, healers and artists. This is why John chose this name for this website! At the end of January, 2013, Martine graduated and went out the door of her physical body, to enjoy an expanded understanding of the universal field of conscious awareness that IS and is thus aware of All-That-Is.
Though energetically we are "All One in God and Love", the term "US" now is considered to appliy to John and his spiritual teachers, healers and guides.
Our Mission

As Facilitators of Healing, we are here to help you heal and connect with your inner knowing, which is Love. Love is the Great Healer that invites us all to engage in the creative aspects of Life so that we may have more abundance in our lives. in all respects!
Vision & Philosophy
On this website, Rev. John M. Kohlenberger, HHP, brings life together through a celebration of creativity, spirituality, inspiration and thus healing. This includes Healing services and the creation and sale of unique Creations, Spiritual writings and Services such as speaking appearances and teaching venues; all supporting further public awareness of these important aspects of life that affirm our continued joy of existence upon this earth.
This website promotes the works of lightworker: John M. Kohlenberger, HHP, Reverend, Healer, Teacher, Artist, Author, and much, much more!
OVERVIEW:
You have found a Holistic Health Practitioner for Alternative Care & Healing, specializing in Spiritual Healing, ReiKi, Energetic Recharge, Chakra Balancing, Meridian Clearing, Polarity Therapy, Auric Cleansing, Healing and Regeneration though your soul or by John's latest modality; Quantum Healing. Basically, when you boil all these words, titles and modes, there becomes only one word to describe it all. John heals with LOVE ... the only real healer or magic elixir there is.
These various approaches describe the mediums for perceiving and directing or redirecting the divine creative cosmic energy of love so that you may find healing to help ease your dis-ease, so you may find pain relief, possibly some new awareness and peace within. While some of these various modalities have been learned in John's conscious mind, many of them are approached from a state of relaxation, prayer or meditation, as these are all ways to connect, beyond the limitations of the earth, body and mind, with the Infinite Field of Universal Consciousness to bring inspiration and added healing ... sometimes it is relief beyond belief.
ABOUT JOHN'S TALENTS
Though I have been many places, learned many modes and techniques from many teachers and even found a talent for having conversations across the veil and seeing beyond this life
"... the greatest of these is love" -
1 Corinthians 13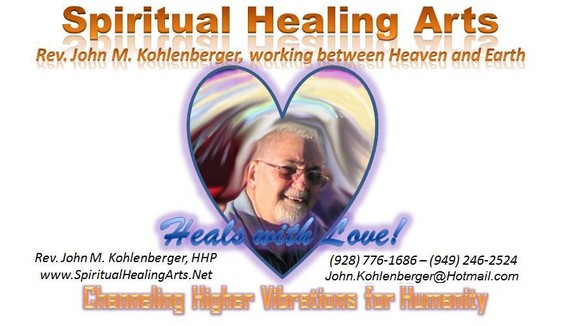 Rev. John heals with Love!
How does John "Heal with Love", in 2013 and beyond?
An introduction to String Theory, but with no strings attached
Feelings and emotions are vibrational electromagnetic energy. Love is Source, Creation and also a manifestation of Source, in action. We, as humans, are an extension of the mind of creation; perfect eternal expressions of source.
Some of us can see (colors), hear and/or feel the spectrum of emotions. The lowest vibration, emotionally, is fear and pain, while the highest vibration is love and compassion. These vibrations may be directed by thought, for healing, joy, peace, harmony, & tranquility. Practice reinforces these energies (that come from your own beingness) and allows greater direction of the energies of love. So, as you change the vibrations of self, you change the world! This is the inner power we all have ... no guns necessary.
John began working on love with these energies, under the guidance of the Rosecrucians (AMORC) in 1968, adding to his knowledge, wisdom, love, abilities and practices with many other teachings and awarenesses over the decades. You may find further details elsewhere in this website.
In the Beginning:
Let the Healing Begin: All Healing comes from the creative
energies that we are and that we exercise. As a famous man once said, "You
are healed by your beliefs"; believing that something better is possible,
then probable, then a reality! So, every form of healing involves more than
just chemistry, physics and a Newtonian world. So, Quantum Healing is merely an
extension of whatever form you may have experienced up to now, as we take
universal multidimensionality into account, and are thus able to work with it.

Thus, we practice this New Age Healing in the old fashioned way; being aware of
the sciences of anatomy, physiology, many alternative (energetic) healing arts,
metaphysics, religion and spirituality, plus modern theoretical physics and
universal processes. Thus, the only limits of healing are the limits we place
upon ourselves. It is limited by our belief in our abilities to conceive,
perceive and realize (make real) our natural, divine, infinite, creative
potentials that we (all) have inherited from Creator, God-Goddess and the
energies of the forces of Love that pervade our beings and our universe. For,
this is Who We Truly Are!


The techniques addressed on this page, then, are just the beginning of what Rev.
John has become aware of through practicing what he learned since studying
under an old Chinese sage in the 1970s and earning his 1000 hour HHP diploma as
the Southern California School of Massage in Riverside California in the 1990s,
after which John and his wife Martine owned, operated and worked in their
licensed Holistic Massage practice in a Medical Office Building in Lake Forest
California, for 8 years.
Find out more "About Us" by clicking the various menu items on the left side of this, or any, window.
Who Are We?

Our Spiritual Healing, Soul, Quantum Healing and other techniques are becoming a sole proprietor website/business, run by Rev. John M. Kohlenberger.

Though John's father was a physician, John is a Metaphysician with degrees, diplomas and certifications, for those who feel the need to verify some level of competency. However, much of what we do is beyond the boundaries and limitations of a purelty physical orientation.

And, Who ad What I AM Not!

I do not diagnose, prescribe, treat or cure, however your family doctor does perform all these services, so please consult with him or her, even in addition to coming to us..

ADDITIONAL INFORMATION:

John has worked for decades as an Spiritual Healer, Complimentary , Holistic Health Practitioner and Professional Massage Therapist, all the time, finding the Mystic within. Along the way, he brcame Board Certified by NCBTMB as a healer and therapist.

Martine has also been trained in Alternative and Holistic practices, Board Certified as a Hypnotherapist and also Board Certified by NCBTMB as a body worker, oriental healer and therapist.


NOTE: To see John in person, contact him by phone, cell phone or email ... or see the "Public Appearances" web page for when he is available in the community, in public.

Martine is currently working as an Accountant, but will be transitioning back into healing and other pursuits helpful to herself, humanity and the community, in 2012.

Life is a Family Affair ... too!

All of humanity is gathered, here upon the earth as a giant human family, learning and practicing our lessons of love, for love is the Great Healer and Elixir of life and the impetus as well as sustainer of life itself. Thus, many have said that creation and creator or "God is love".

God's greatest gift to us all, then, was not His Son, but rather each other, so we may love and cherish and also be loved and cherished in return. This is what sustains each and every one of us.

Thus, you will find love in all of John's works!